Technology: Relevance and trends in commodity markets
Enio Nagae, hEDGEpoint's Head of Technology, talks about the relevance of technology for companies while highlighting some key trends.
Many changes are now taking place in commodity markets, such as the increasing relevance of technological advances. Today, companies are investing in technology and innovation, along with security-focused solutions, to promote agility and flexibility in all areas. At present, digitalization is a vital reality in the business models of the most diverse sectors, bringing more operational efficiency.
Technology provides accessibility, together with more assertive data, and functionalities that contribute to a better customer experience. In addition, it delivers more confidence when making strategic decisions.
Another fundamental technology issue is the concern with cybersecurity, a field of study and practices that focus on the protection of computer systems, networks, electronic devices, and data against cyber threats. The aim is to prevent unauthorized access and disclosure, misuse, and even the destruction of confidential information, for example. Enio Nagae, hEDGEpoint's Head of Technology, is quick to point out the relevance.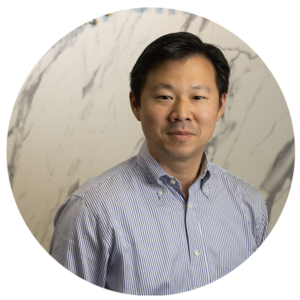 "The number of organizations suffering from cyberattacks is growing. Therefore, its essential that companies make information available in a secure, connected, and digitized way," Nagae says.
Cybersecurity protects against threats
Businesses need to ensure cybersecurity. There's great concern about cyberattacks because most affect strategic areas of the business, potentially paralyzing operations while causing significant financial damage.
With more investment in cybersecurity, companies can better address the risks that arise from the increase in the number of devices and systems connected online. The amount of money directed toward building an intelligent infrastructure capable of preventing threats and managing access is growing. Hiring information security specialists is another top priority.
Just to give you an idea of this issue's importance, a survey conducted by KPMG interviewed more than 450 cybersecurity and Information Technology (IT) professionals. About 80% of them reported worrying about some type of threat. A study by the 2022 Global Digital Trust Insights Survey claimed that 8 out of 10 companies in Brazil say they will invest more in cybersecurity.
Cloud Platforms: Data protection and integration
Research by Gartner, a global data and analytics company, reveals that 50% of organizations will use cloud platforms to leverage their market activities by 2027. The search for these tools can only grow, as they integrate the immense quantity of digital content in simpler, more agile ways.
In addition, these platforms are associated with mobility, and provide access to the internet anywhere in the world.
"Our customers' data is stored using technologies that guarantee cybersecurity. We use resources that allow the network to function in any geographic space," Nagae remarked.
One of the best ways to ensure this security is through cloud providers, which have infrastructure distributed in different places, enabling data replication and redundancy. In this way, if any location or server fails, the same data will still be available elsewhere. In addition, regular data backups are performed, reducing the risk of losing information related to production and negotiations carried out in commodity markets.
"At hEDGEpoint, we proactively monitor to prevent attacks. If there are risks, we're quickly able to diagnose the situation, receive the information, and take the necessary measures. We raise awareness and train the team on how to use our technologies to maximize performance and avoid errors," Nagae stated.
Technology: The main challenges and prospects
Nagae clarified that another trend in the commodities sector is the use of Artificial Intelligence (AI), such as ChatGPT. It's considered a generative technology, as it involves the ability to generate and produce original content. "Tools like this work by providing support and assistance to a larger number of people, as they're more accessible. The question we still need to understand is how to apply them effectively and seamlessly to data processing," he reasoned.
The greatest technological challenge in commodity market risk management, according to the Head of Technology at hEDGEpoint, lies in the multiple variables that need to be observed at once.
"It's critical to observe many variables, such as questions related to the expectation of crop production, and economic and geopolitical scenarios, among others. These are complex and dynamic variables that we need to understand and process," Nagae explained.
Thus, it's essential to learn how new technologies can be integrated with analytical technologies, responsible for collecting, processing, verifying, and interpreting data to obtain insights. "Treating this data related to numerous variables is the most time-consuming part of the process. If we get a generative technology that manages to advance part of this work, there'll be a great productivity gain," he added.
To respond to these challenges, Nagae sees multidisciplinary professionals working in commodity markets as an important prospect. Hence, a combination of key skills will be required.
"Today, we have professionals who are developers, for example. Soon, I believe we'll need a developer who also understands data science and combines all of this with knowledge of finance," Nagae postulated.
How can you use technology better to manage risk?
With hEDGEpoint, it's possible to use technology to favor the global commodity chain. We're always expanding our data platform and developing solutions to manage our customers' information in a completely secure way.
We're already using the latest technology to manage risk. We provide hedging products based on innovation and valuable insights, with the client as the focal point of the entire process. We work with more than 50 different commodities, numerous currencies (FX), and more than 400 hedging products, while always promoting the best customer experience.
hEDGEpoint is present on five continents and always prepared to help—at any time, in any place. We connect local needs to global realities. We put together exclusive reports and insights from a team that has an extensive understanding of the agricultural and energy commodity markets. With us, you can invest in planning that provides security while combining the knowledge of our specialists with your goals.
Talk to a hEDGEpoint specialist today and start applying better technology in your business's risk management.
The best commodity risk management content delivered to your email!
Subscribe Now